June 28, 2023
UNFORGETTABLE SISTER CIRCLE DINNER PARTY: A NIGHT OF CONNECTION AND EMPOWERMENT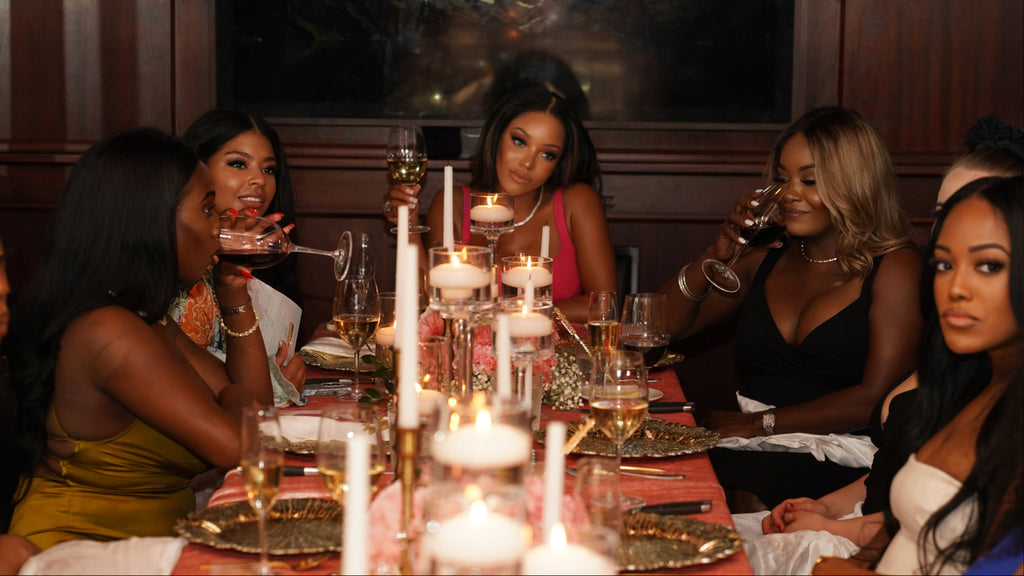 ♡ Sister Circle is an extraordinary community of like-minded women who come together to connect, heal, and level up. A vibrant tapestry woven with the threads of diverse backgrounds, experiences, and dreams. In this sacred space, women from all over the world gather to celebrate their journeys, uplift one another, and inspire personal growth.
Through transformative events, deep conversations, and empowering experiences, Sister Circle nurtures a sense of belonging, ignites inner strength, and fosters lifelong friendships. It is a commitment to creating a world where women thrive, shine brightly, and achieve greatness.
As I stood there, surrounded by a sea of radiant faces, I couldn't help but feel a surge of overwhelming gratitude. The Sister Circle Dinner Party, an event that had been just a vision in my mind, had become a stunning reality. I was humbled and elated to see such a magnificent turnout, and the energy in the room was electrifying. It was a night that would forever be etched in my heart.
Women from all corners of the globe had gathered for this momentous occasion. London, Toronto, Delaware, and beyond—these phenomenal women had journeyed far and wide to be part of this magical evening. Their presence alone was a testament to the power of connection and the hunger for community that lies within each of us.
One of the highlights of the night was our special guest, Nichole Dagle, who graced us with her wisdom as a guest speaker. Her words on confidence resonated deeply with every woman present, igniting a fire within our souls. Nicole's powerful insights reminded us all of our innate strength, resilience, and limitless potential. Her presence was a true gift, leaving an indelible mark on each and every one of us.
The Sister Circle Dinner Party was not just an event; it was the culmination of a vision to create a vibrant and nurturing community for like-minded women. A community where we could come together, celebrate our unique journeys, and inspire one another to rise higher. And in that moment, as we shared stories, dreams, and aspirations, I knew that something truly special had been born.
Everyone who attended received this stunning creation that encapsulates the essence of our Sister Circle community - the "Unity and Sisterhood" brooch, crafted with love and precision by my friend and talented jeweler, Gina White. This remarkable piece embodies the heart logo that signifies the very core of our sisterhood, representing unity, support, and unwavering sisterhood bonds.
This exclusive brooch is more than just an accessory; it is a tangible symbol of the extraordinary connection shared by the women of Sister Circle. Adorned with intricate details and crafted with utmost care, each brooch tells a story of empowerment, camaraderie, and the strength that lies within our collective spirit.
But here's the catch: this exquisite brooch is a coveted treasure that can only be acquired by attending our Sister Circle events. It serves as a keepsake, a tangible reminder of the transformative experiences, heartfelt conversations, and lifelong friendships forged within our sacred circle.
This dinner party was just the beginning—a spark that ignited a flame. It served as a catalyst for the countless events, retreats, and transformative experiences that lay ahead. The Sister Circle community was now a living, breathing entity—a tapestry woven with the threads of diverse backgrounds, experiences, and dreams.
With a heart full of gratitude, I cannot wait to embark on this incredible journey alongside these amazing women. Together, we will continue to nurture and grow this extraordinary community, creating a space where women can come as they are, connect deeply, heal, and support one another on their paths to greatness.
To all the phenomenal women who graced the Sister Circle Dinner Party with their presence, I extend my deepest gratitude. Your energy, passion, and unwavering support have touched me in ways words cannot express. Thank you for being part of this powerful movement, for showing up, and for being the extraordinary women that you are.
May we always carry the memories of this enchanting evening in our hearts, and remember that the Sister Circle community is a lifelong commitment. It is a promise to uplift, inspire, and empower one another, not only during these special events but every single day. Together, let us continue to create a world where women thrive, shine, and achieve greatness.
Here's to many more remarkable events, transformative experiences, and unbreakable bonds within the Sister Circle. Our journey has just begun, and I couldn't be more excited for what lies ahead.